Waikiki Surf Camp
SURF: Considered one of the best places to learn to surf in the world.
LOCATION: World famous Waikiki is in the heart of Honolulu.
TO DO: Lots of ocean sports plus a large city to explore.
ACCOMMODATIONS: Carefully selected condo suites.
FOOD: A wide range of dining options and nightlife nearby.
ACTIVITIES: Surf instruction, private yoga, and many self-guided options.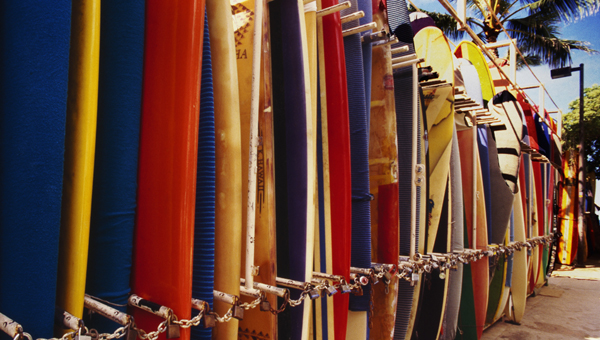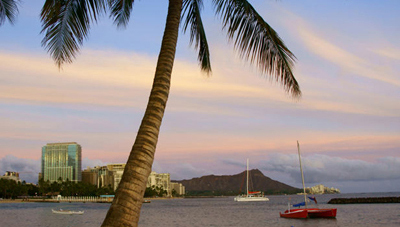 The Location: Waikiki Beach
Waikiki is a bustling travelers' neighborhood in the diverse city of Honolulu where classy restaurants overlook the the famous rolling waves of Waikiki Beach. There are many great spots for stand-up-paddling, swimming, sunbathing, and, of course, surfing. You'll find high-end dining as well as delicious local fare, as well as some great beachfront bars where live music drifts out to the sea. The shopping is unparalleled, so leave room in your luggage! With plenty of nightlife options, there is always something to do in Waikiki.
Urbanites and nature-lovers alike will find plenty to satisfy them, whether it's trying a five-star restaurant, hiking, or taking a sunset cruise. Historic and cultural attractions abound.
Surfing
Waikiki is an ideal location for learning to surf. In the summer months, steady swells reach the southern shore of Oahu, bringing countless rolling waves. The waves shaped by the reefs underwater break consistently and gently, providing perfect conditions for beginners to learn to understand wave mechanics and catch long rides. You'll have the opportunity to develop your technique and learn to work with the flow of the wave, since the breaks on Waikiki are known for their long, peeling rides. Our instructors will be there every step of the way to teach you proper technique, etiquette, and safety, so that you get the most out of your experience. The breaks are located in the center of Waikiki, making it easy for you to head back out if you want more practice. Taking breaks and relaxing on shore between surf sessions is a perfect time to soak up the great weather and enjoy the beautiful scenery.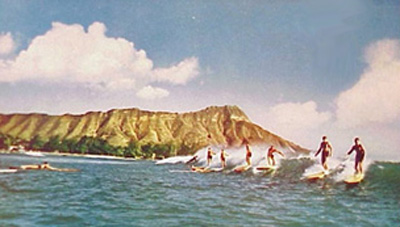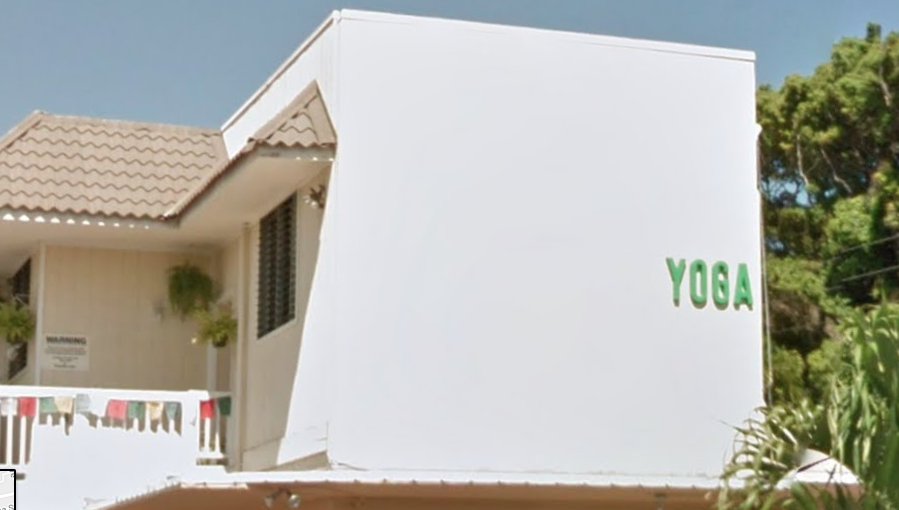 Yoga
Your stay with us can be enhanced with a yoga lesson to keep you loose and relaxed.
Because surfing engages many distinct muscle families and joints, yoga is a perfect complement to surfing. It will improve your balance, breath control, and take you into a deeper state of relaxation and concentration. Our instructors are surfers who understand the unique demands of the sport and tailor their classes to meet your individual needs.
Accommodations
Our base package for our Waikiki trips includes accommodations in a Waikiki condo suite. We only select private accommodations with full kitchens, private bath, and the standard amenities so you'll be able to fully relax and enjoy your time here. Rates vary greatly based upon travel season and desired amenities, so we advise guests to book early! Please feel free to contact us with special requests or preferences, and we'll be happy to work with you to find the best property match.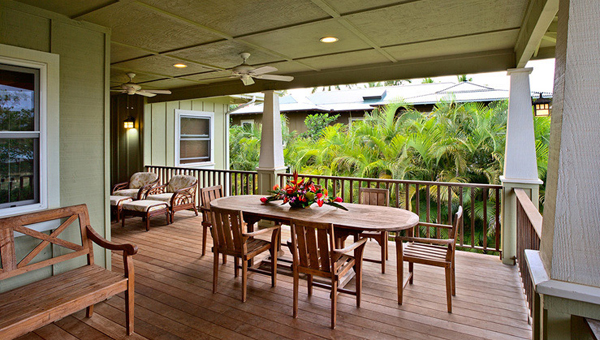 Apartments and condos include:
Close proximity to beach with ocean, mountain and/or Diamond Head views
Flat Screen televisions and Wireless internet
Outdoor Lanai
Full Size Kitchen
Professionally cleaned and furnished units
Walking distance to grocery stores, restaurants, and attractions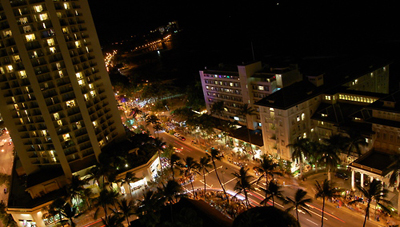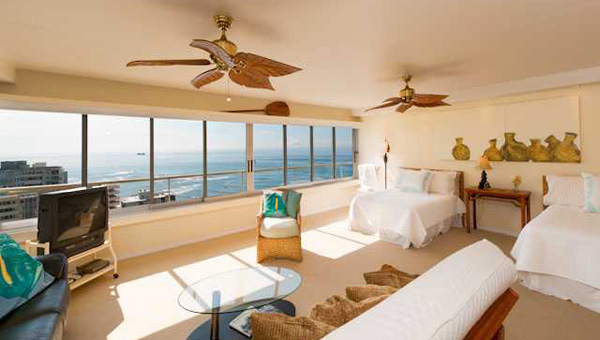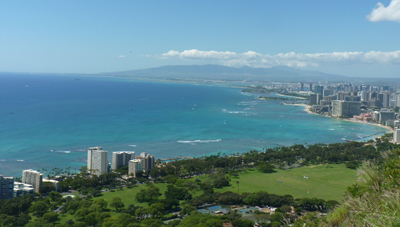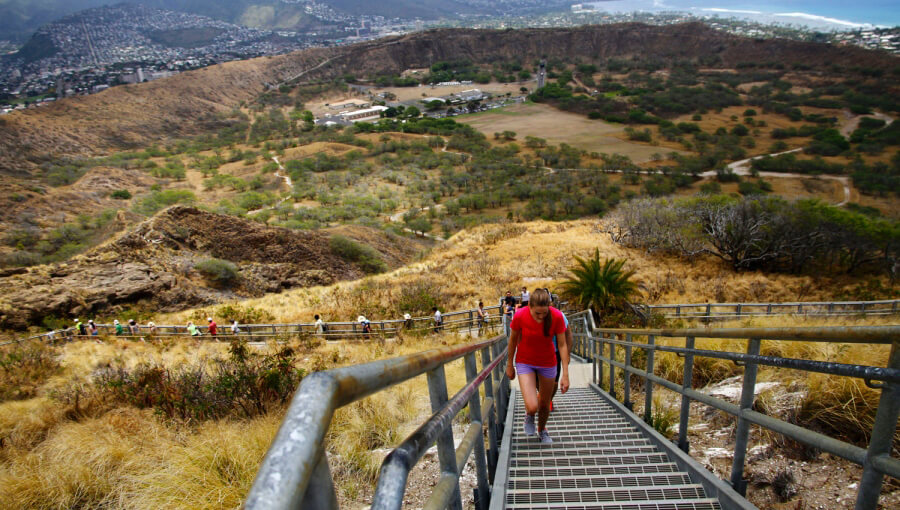 Hike Diamond Head
In between surfing and yoga, take an afternoon to hike to the top of Diamond Head Crater, which provides an opportunity to get a workout while exploring one of Hawaii's most famous landmarks. The entire hike is 1.75 miles in length and climbs to an elevation of 762 feet. Upon reaching the top, you will be afforded a great view overlooking all of Honolulu and Waikiki Bay. This is one of the most popular attractions in Honolulu, and it is a definite must-do while you are visiting.
Diamond Head Geology
Diamond Head Crater is a tuff cone, created when magma, the sea, and gases from a volcano combine to emit ash. The collection of ash hardens into tuff, which creates the conical shape. It is thought to be approximately 200,000 years old and to have gone extinct 150,000 years ago. The crater has a diameter of 3,520 feet and is fairly symmetrical, leading scientists to believe that the eruption causing the formation of Diamond Head was brief but explosive.
Diamond Head History
Diamond Head was originally named "Le'ahi" by the Hawaiians, which translated means "the brow of the tuna." Looking at Diamond Head from Waikiki, the profile of the crater strongly resembles the profile of a tuna (ahi) and its dorsal fin. The current name of Diamond Head came from British sailors visiting the islands in the 1800's, who climbed into the crater and found calcite deposits in the soil. Believing that the crystals were diamonds, the crater received its new name. Diamond Head crater was at one time the site for grazing livestock, but in the late 1800's the United States military began utilizing Diamond Head for its strategic advantage and built Fort Ruger within the crater's interior, the first American military installation in Hawaii. A large tunnel was dug through the crater wall to provide access to the fort, which contained a battery of cannons, a command post, and observation deck. While the fort is no longer actively used, portions of Diamond Head are still held by the military and used for training purposes.
Massage and Other Activities
Many other activities can be aranged for your trip like a massage, catamaran cruise, skydiving, sightseeing tour, Pearl Harbor visit, diving and snorkeling trips, dolphin swimming adventure, ziplining, and much more!